The day has finally come when I have finished my classroom set up. It certainly isn't 100% ready but is it ever?
My laminator took
forever
to arrive (the joys of living in Canada) and so many of my things are not laminated. Fingers crossed that they will last longer than just this year! Today I laminated
everything I could see
a few things and ran out of pouches. (I think I may need to go to Laminators Anonymous). I'm sure you can all relate.
So this is my new school. The construction workers are still going but it is looking nothing short of amazing in this school.
My classroom is at the end of the hall and opens up to this common area where the library is and there is now picnic tables and a beautiful playground.
For some reason, the classrooms have 15 cubbies. I was hoping class sizes were going down, but no luck. :) So, I decided that they would share the bins 2 to a bin. (Yes, I may rethink that.) I figure that it's a good way to promote community and it's only for gym shoes anyways. I am using tables this year and shared supplies so it is a good combination. The safari number labels are from my
Zebra Classroom Decor
I've used these student mailboxes for years and it's interesting to see that the amount of "mail" has decreased through the years with the implementation of technology. But, it's always good for miscellaneous stuff and for "bucket filling" notes. I think my coffee center is self-explanatory!
My Reading and Library Center has a light up palm tree courtesy of my sister. It's awesome!
In the middle of the window area at the back of the classroom, you will find my Science Center . I'm still building it and adding plants etc. It will have "natural discovery" items and also theme related stuff.
My favorite center is my writing center (no surprise I'm sure). I LOVE IT! The little Safari chairs that I painted fit perfectly under the rainbow table! The table and teacher chair will double as "Author of the Day" (class VIP) and my reading group table.
Here is my Math Center. This is the white board where I will be working on some concepts and daily calendar questions. I will be getting a trolly of manipulatives so that is why you don't see any!
Here is the beginning of our calendar center. I still need to put my weather graphs up down below. Here is where we also do our morning message which increases in complexity as the year goes on.
Our classroom jobs are done by number and rotates so that everyone gets a chance to be a certain job throughout the year. I will be adding these to the classroom decor pack as soon as I get a chance. I have two writing job cards because it's a big center!
Here is a look at behind my desk. This is where I keep a lot of my teaching resources.
Finally, here is a view from the back of the room.
The only thing missing is my Art Center. I created new color posters but didn't get them printed in time! Check back later!
I hope you enjoyed this little tour of my room. Still lots of notebook preparing and organizing to do but I'm very happy that I am now ready to meet my students next week!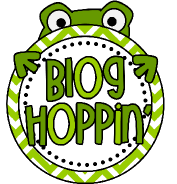 Check out Bloghoppin' for other classrooms pics!